Mitsonian Institute ~ Professional Mastering By David Mitson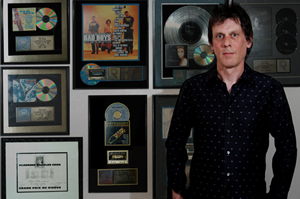 What Is Mastering? | Who is David Mitson? | Contact
Black Country native, David Mitson didn`t realize that "Go West Young Man" was a movie cliché and duly headed for California in 1985, after a decade playing the UK club circuit as a bass player in various brilliant (or so he says) but unheralded bands.
Soon after arriving in L.A. he was employed by Sony Music (then still CBS records) as assistant engineer to the legendary mastering engineer Joe Gastwirt. When Joe left to open his own facility David was promoted to take over his chair and then in 1992 took on the management of the audio post (mastering) dept. as well as being the senior engineer, eventually becoming Assoc. Director. He was a very busy lad.
As Sony`s "main guy" in Los Angeles, David has worked with some of the top names in the music business, in nearly all genres of music. Michael Jackson, Barbera Streisand, Carlos Santana, Neil Diamond, Willie Nelson, Alice in Chains, The Muppets and South Park were all clients. He also did many movie soundtrack albums including Dead Man Walking, Cool Runnings, The Blair Witch Project and The Mask. After all those fancy names David is most proud to have worked with Zoot Horn Rollo (Bill Harkleroad), from the Magic Band on his 2001 release "We saw Bozo Under The Sea".
If that wasn`t enough he also remastered a large portion of Sony`s catalogue. Living Blues Awards were received for his restoration and mastering of the Bessie Smith catalogue and Blind Willie Johnson. The remastering also included working with Johnny Winter, Pete Seeger, Bill Monroe, The Clancy Bros. and the catalogues of such historical figures as Son House, Blind Willie McTell, The Carter Family and W.C. Handy. He also remastered the very first blues song ever recorded, Mamie Smith`s "Crazy Blues" (1920).
Having done all that, David did what he always intended and returned to the Black Country in 2006 and is now up and running and mastering in Stourbridge in the West Midlands. His philosophy on this is simple. Independent bands and labels do the music for the sheer joy of creativity and the desire to just play music. "It is a pleasure to work with people like that and it is very inspiring and fulfilling to be able to contribute to the quality of their releases". He say`s that it is great to be back in the Black Country, where he can finally, after 21 years, enjoy a real cup of tea and a decent pint! Yes, he does miss the S. California weather, but not the earthquakes. What Is Mastering?